upcoming
BOOK CLUB FOR october
Mon, October 14 @ 8:00PM in the Rectory
Selection is TBD
Receive a 10% discount at The Corner Bookstore
CORNER BOOKSTORE | 1313 MADISON @ EAST 93RD STREET | 212.831.3554
mention SFdS Book Club at checkout
Need a reading suggestion?
Looking for the next great book to read? See all our past monthly books and highly recommended reads.
Told through a series of letters and set against a 1993-era backdrop of grunge rock and riot grrl bands, Everything Grows depicts Eleanor's extraordinary journey to solve the mystery within her and feel complete. With the help of a unique cast of characters, Eleanor learns not only what it means to be inside a body that does not quite match what she feels on the inside, but also comes to terms with her mother's mental illness.
ABOUT THE AUTHOR:
Aimee Herman is a Brooklyn-based queer writer and educator with two full length books of poems, meant to wake up feeling and to go without blinking in addition to being widely published in journals and anthologies. Aimee is a founding member alongside David Lawton in the poetry band, Hydrogen Junkbox. Her latest novel Everything Grows was just published in May of this year.
A Conversation With Father Martin:
AUTHOR OF BUILDING A BRIDGE
Thursday, June 21, 2018
Thanks to everyone who contributed to the success of Book Club's first all-parish event! It exemplified how we here at St Francis "Live Jesus"–by opening our doors to everyone and spreading a message of love and acceptance.
Over $500 were raised for the Ali Forney Center towards their work with LGBT homeless youth and 90+ attendees were welcomed into our beautiful church! This event was a Pride Month collaboration with the LGBTQS Catholic Alliance and Social Justice Ministry. Not bad for our little Book Club...
Building Bridges at the Church of St. Francis de Sales in NYC
I was so happy to be invited to speak at the Church of St. Francis de Sales in New York. Believe it or not, even after 20 years here, and helping out at a church right around the corner, I had never been inside. It's beautiful! Even more beautiful are the parishioners and all who came tonight to talk about building bridges with our LGBT Catholic friends. Thanks to Father Philip Kelly the beloved pastor, to Cynthia Bastidas, and the LGBT outreach group for the invitation. Thanks for the lovely reception beforehand too. And thanks to all who came, some from far away, to talk about an important issue in our church, and all who stayed afterwards to have a book signed and to chat. Please keep me in your prayers!—Father James Martin, SJ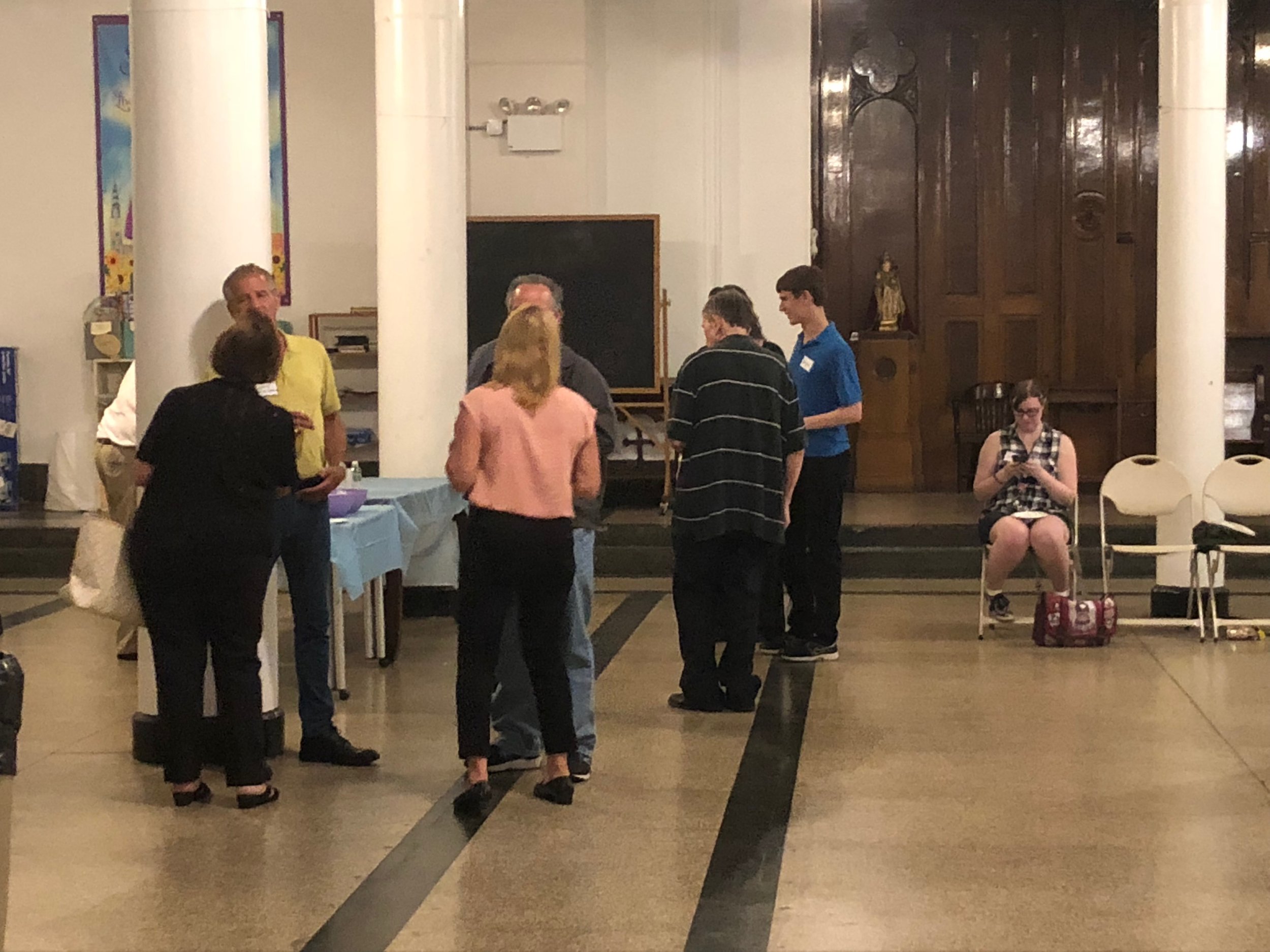 about us
Book Club meets on the second Monday of each month in the Rectory. Come prepared for spirited conversations related to the monthly book selection. Each month, the group democratically chooses upcoming books which span the genres of fiction, history, current events, politics, theology, spirituality, and even inquiry into other religions.
Cynthia Bastidas and Lydia Serrano founded the SFDS Book Club in June 2016 after completing their Catholic initiation process (RCIA) together: "Our intent is for both new and lifelong Catholics to deepen their understanding of faith through literature and non-fiction. Book Club is a beautiful complement to weekly Mass and bible study in growing our faith alongside our SFDS community!"
sign up for e-amail updates from book club